(from The Observer)
'You've one path in life, which is your integrity, your vision, your soul": Emma Rice.
"It was on Shakespeare's birthday," says Emma Rice, remembering the April day in 2018 when she walked away from the Globe theatre. After only two seasons as its artistic director, she had received what amounted to a vote of no confidence from the board that had appointed her, and her departure caused an outcry in the world of theatre. "The heavens opened as I left," she remembers, "and something washed away at that moment. I had such a sense of the narrative of my life…"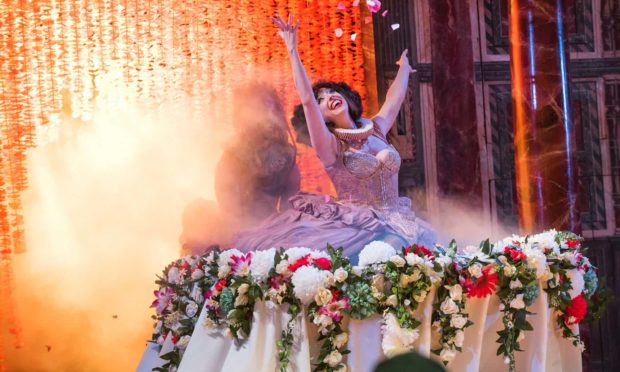 We are sitting in an office in Bristol's Spike Island, the building in which Rice's new company, Wise Children, is installed (about which more in a moment). Two years on, Rice looks splendid, with exclamatory hair, silver hoop earrings and festive yellow clogs. She is feeling "euphoric" at having started a new chapter. Yet her eyes have a complicated look as the subject of the Globe looms: sadness mixed with humour. She has barely talked about it publicly since she left. "I feel gratitude and relief that two years of transition are over. Not that I wanted what happened to happen – I didn't." She loved the space, audience and excitement at the Globe: "I will miss it until the day I die."
The reason offered for her departure was that the powers that be did not like her unconventional use of sound and lighting (her opening production of A Midsummer Night's Dream had a disco feel – David Bowie as a garnish to Shakespeare). The Globe prides itself on its natural effects, but she knew, as an open letter she posted on the Globe's website revealed, that this was about more than lighting: her artistic vision was no longer trusted. She could not continue. "My artistic process is all I have," she says.
"I felt like Polonius behind the curtain," she admits, laughing sadly. What she means is that when they stabbed her, they had not intended to finish her off. "They were surprised when I didn't get up. That's my guess. When I started working at the Globe, I came on too strong. I met the space with artistic frenzy, it was so exciting – the lights, the sounds. I don't think they imagined I'd leave. They thought I'd accept new guidelines, that I'd want the job more than my practice. My guess is they were shocked when I said: 'Absolutely not'. I felt like Tina Turner. [Turner refused to give up her name in the divorce courts: 'I've worked too hard for it.'] You've one path in life, which is your integrity, your vision, your soul. It was never an option to stay."